Download Rates
Available for $795 + $200 per year, Download Rates will copy exchange rates from internet services to Sage 300 databases. Run it manually or set it up as a daily task. PDF Brochure – Video
"Now I'm installing Download Rates ... to retrieve 15 currencies daily, for 200 companies; Imagine the time saving" François Tremblay, ACCEO Solutions. Show complete quote.
*New* Support is added for Sage 300 2023.2 and 2023.3.
*New* Support is provided for APILayer, the currencylayer API for new subscribers.
*New* Average monthly rates are calculated from downloaded rates.
*New* Support has been added for the rates provider Monetary Authority of Singapore.
The downloaded interbank rates can be adjusted by a specified percentage so as to more accurately represent future settlement rates. A mapping table will translate from ISO to Sage 300 Currency Codes. Download Rates provides a practical way to support Sage 300 "spreads".
Supported services: Bank of Canada, Reserve Bank of Australia, U.S. Federal Reserve, Monetary Authority of Singapore and currencylayer. Users of currencylayer must subscribe to their service. US Federal Reserve's new format feeds introduced in January 2019 are now supported. Bank of Canada has changed their RSS feed URL and reduced the number of supported currencies as of April 2017. Bank of Australia's new format introduced in March 2020 is now supported. See: Memo 2103: Choosing an Exchange Rates Provider for Download Rates
Disclaimer: Rate providers qualify their offerings by indicating that the rates are provided for analytical purposes only. TaiRox does not guarantee the accuracy of rates provided or that any supported provider will continue to offer their service.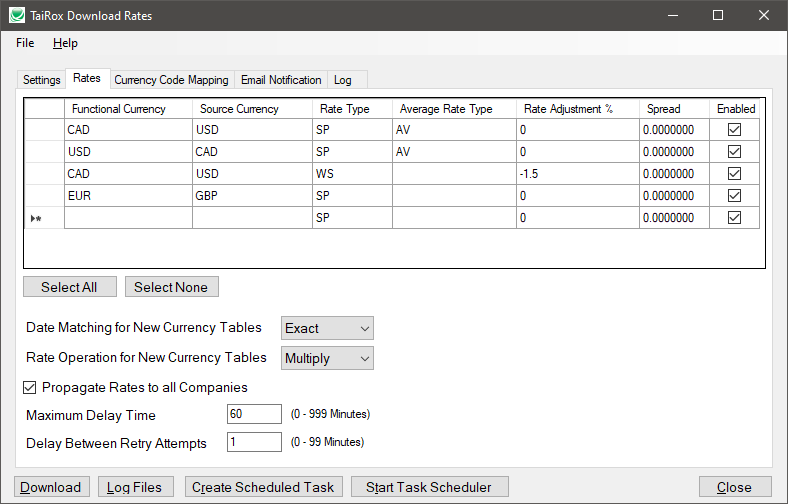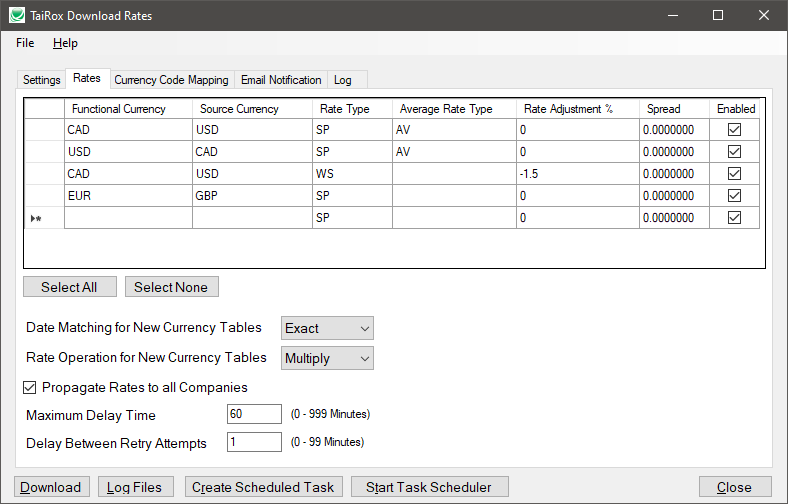 Features and Benefits
•
Updates multiple exchange rates for multiple days in multiple companies in a single operation.
•
Uses Sage 300 Rate Types so that multiple rates for the same two currencies can be maintained.
•
Will convert from ISO Currency Codes used by Providers into "non-standard" Sage 300 Currency Codes.
•
Provider rates can be adjusted by a percentage to more accurately reflect a rate actually used in transactions.
•
Creates a basic Windows Scheduled Task and will launch the Task Scheduler.
•
One-time entry of a Sage 300 "spread" makes this warning function more practical.
•
This product uses Sage 300 business objects to insure proper multi-user operation.
Platform Requirements
| | |
| --- | --- |
| • | Sage 300 2012 to 2023: A single executable program works with these platforms. |
| • | .NET Framework 4.6.2 or higher is required. |
| • | Visual C++ 2013 Redistributable (x86) - 12.0.30501 or higher is required. |
| • | Detailed Platform Requirements |