SOX Backup Express
Available for $795 + $200 per year, SOX Backup Express will copy Sage 300 databases and folders to an offsite FTP location as an automated overnight operation.
*New* Support is added for Sage 300 2023.2 and 2023.3.
*New* Support is added for Sage 300 2023.
*New* Adds Checks for Productivity Tools Enterprise.
XML Driven: Settings are stored in an XML file that drives Windows Scheduled Tasks, a core o/s, always-on service. A headless design means jobs cannot get hung up waiting for user responses. Multiple XML files can drive multiple jobs.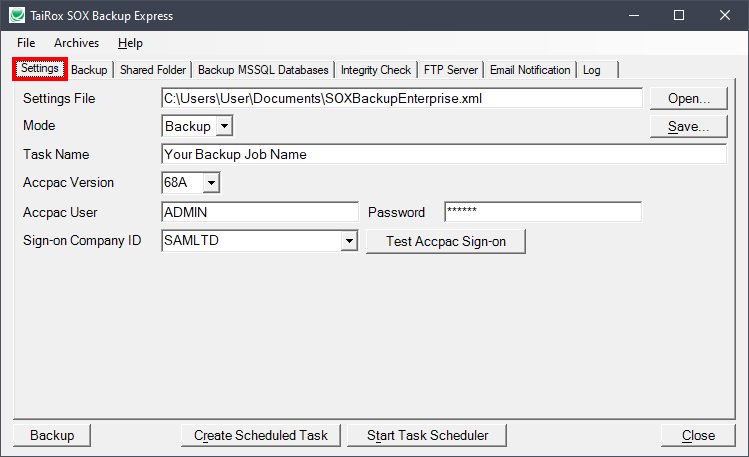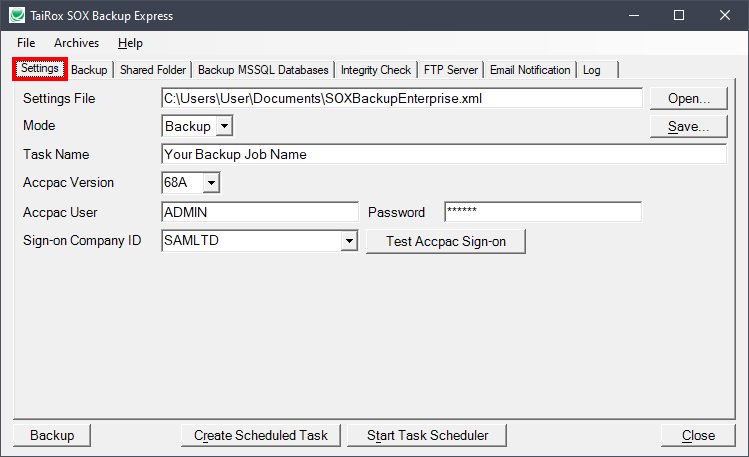 DBDump Backup: Any number of Sage 300 databases can be backed up into or restored from a single archive. DBDump format is many times smaller than database backup formats and removes indexes and possible index corruptions.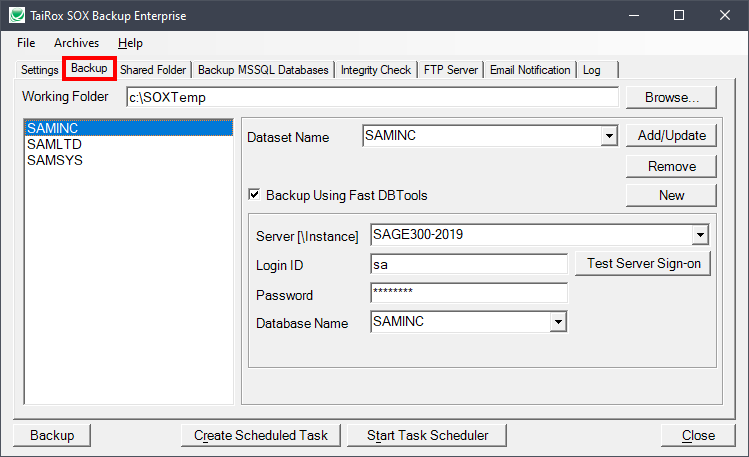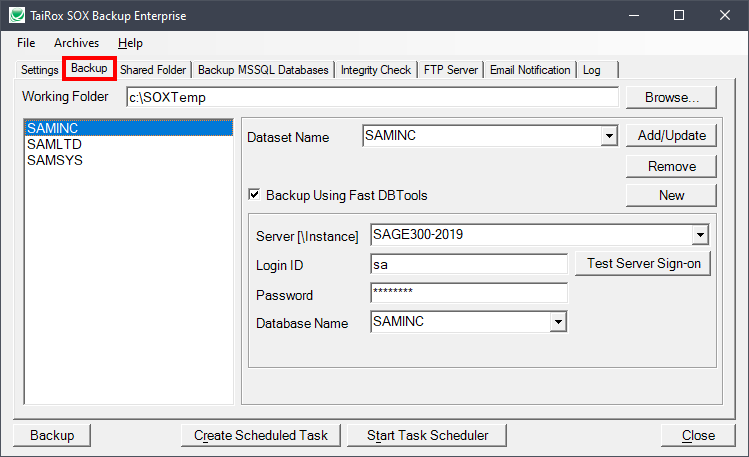 Archive Management: The Sage 300 shared folder and matching databases are backed up into a single archive. Between 1 and 99 daily archives can be managed with automatic cycling - at limit, oldest is automatically removed. Archive management helps avoid disk full conditions.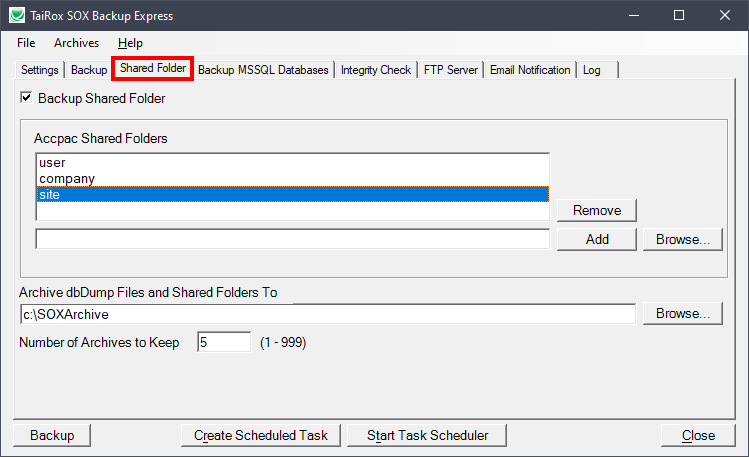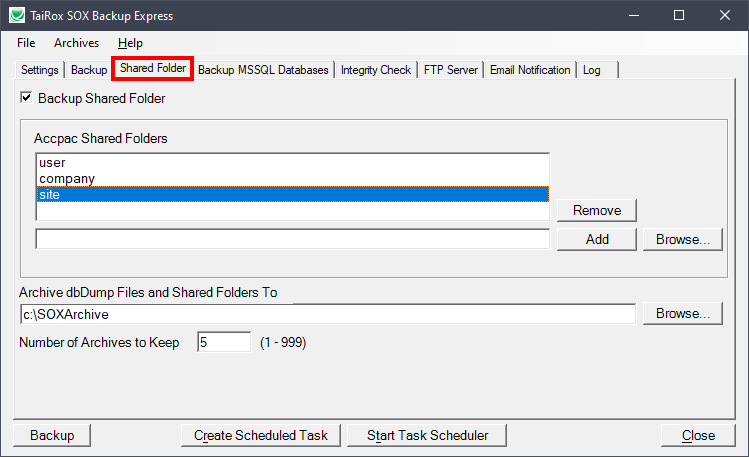 Integrity: Application level integrity should be checked on a regular basis. Database integrity checks database structure, not application integrity. The SOX Backup summary assists analysis by distinguishing errors from warnings.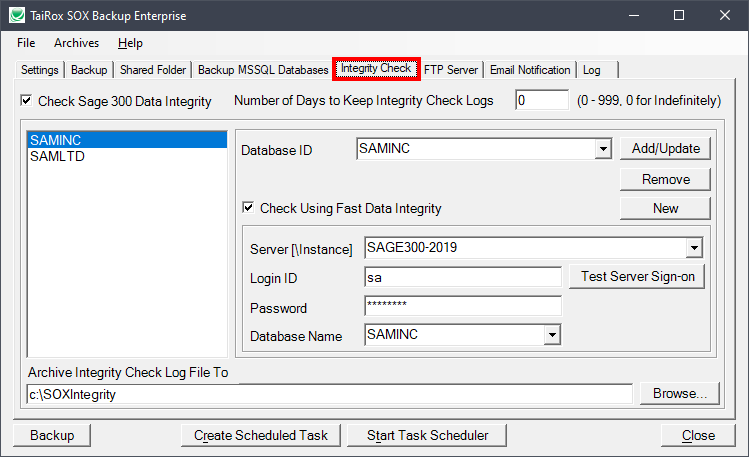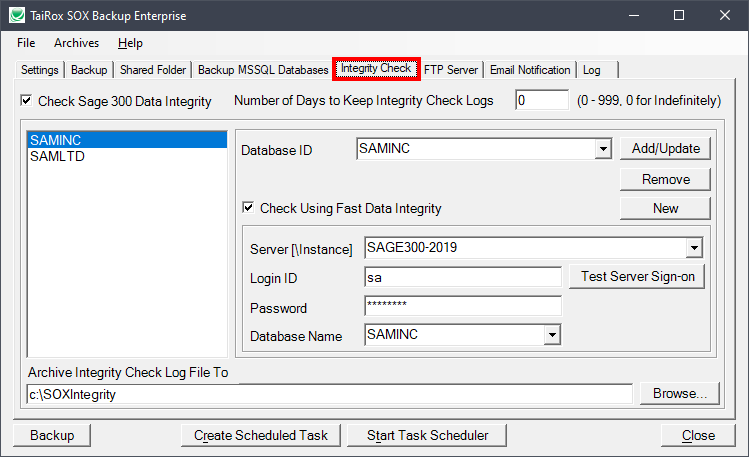 FTP Option: Data can be reliably copied offsite, using robust re-try strategies - exponential backoff with configurable limits. Archive file splitting sizes are configurable to accomodate internet connection quality.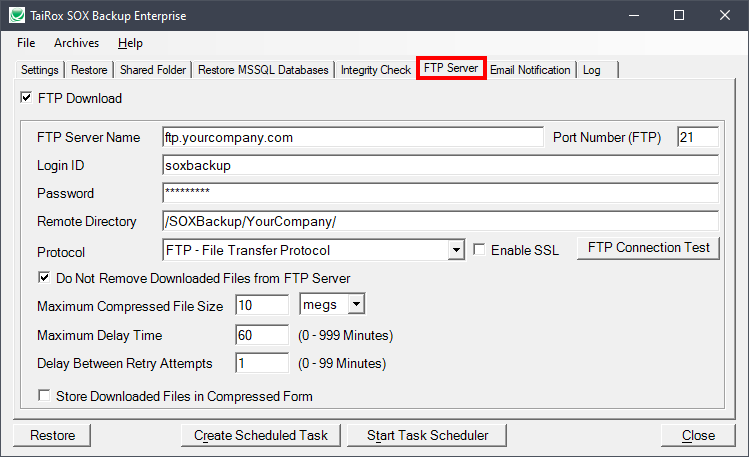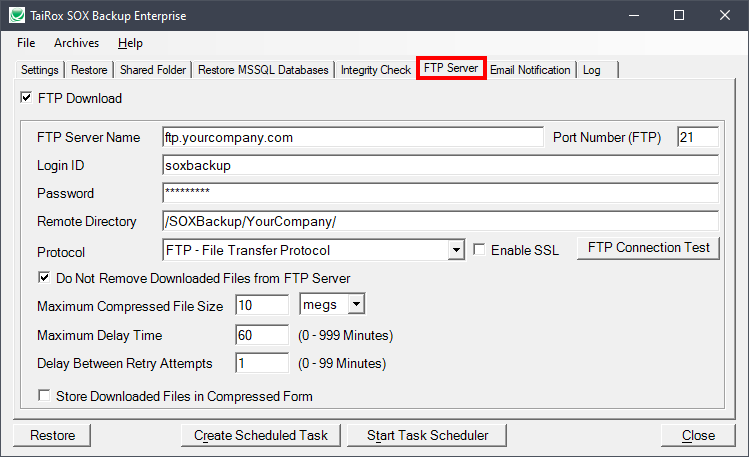 SQL Server Databases: CRM, Sales Analysis or eRequester database backups are stored in a daily archives. Any number or kind of SQL Server databases can be included. Provides an automated backup mechanism for SQL Server Express users.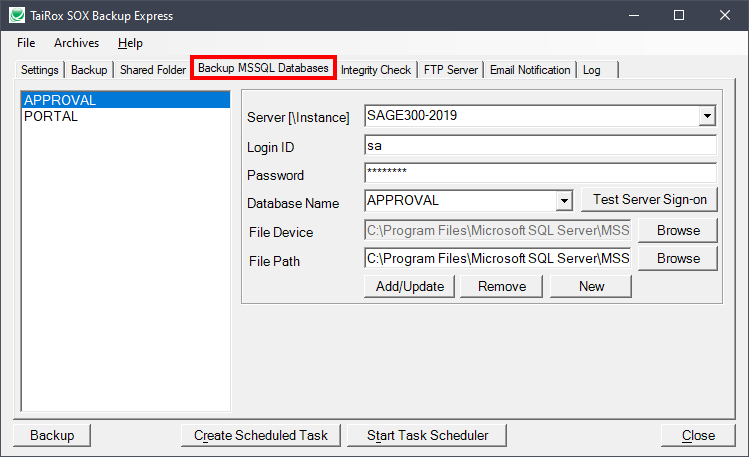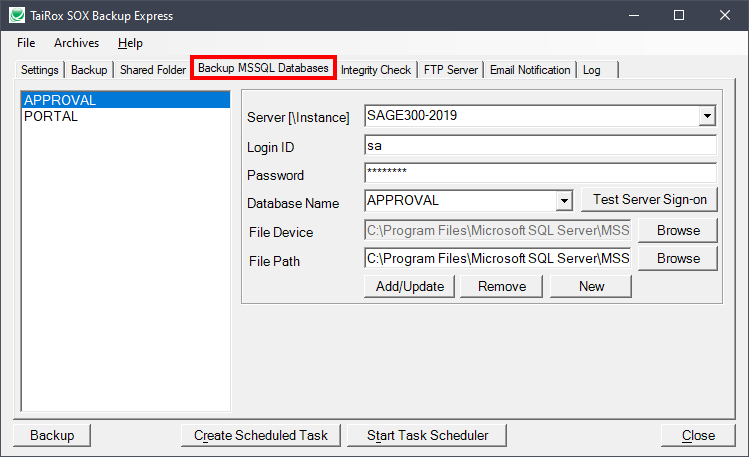 Email Notification: Email subject line includes SUCCESS, FAIL or NOTE status. Email body is a copy of the log file. If internet connectivity is lost, emails are re-tried using FTP settings and mechanisms. Does NOT rely on Outlook, Exchange or ISP mail servers.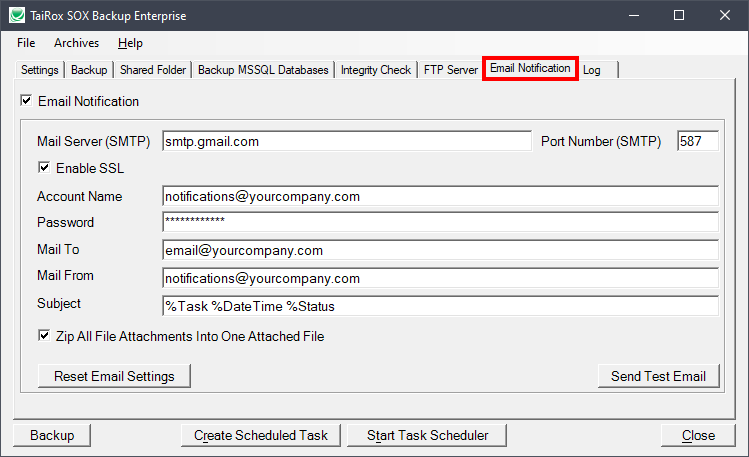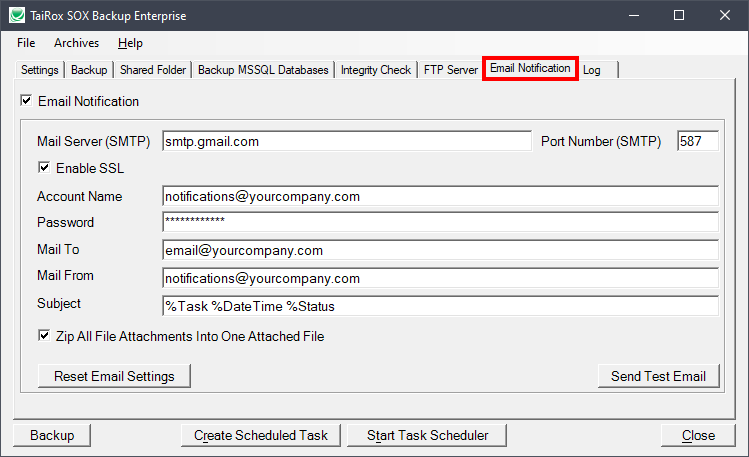 Log File: A log file is stored with the daily archive, either summarized or detailed. The server name, local server times, disk-space usage and other tracking data is logged. Data integrity warnings and errors are distinguished in the log summary.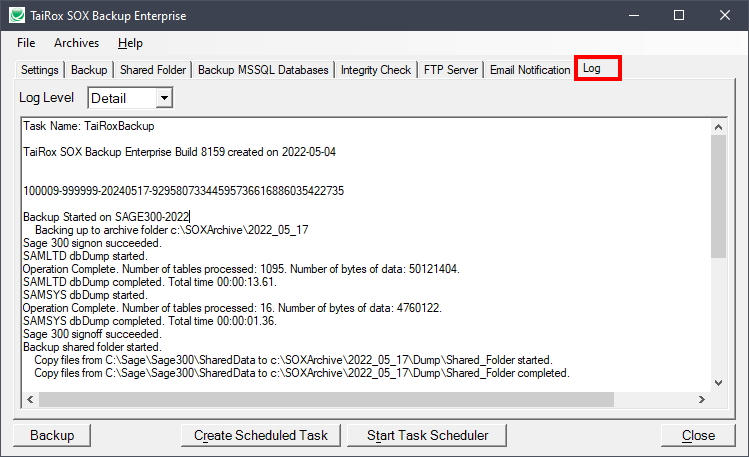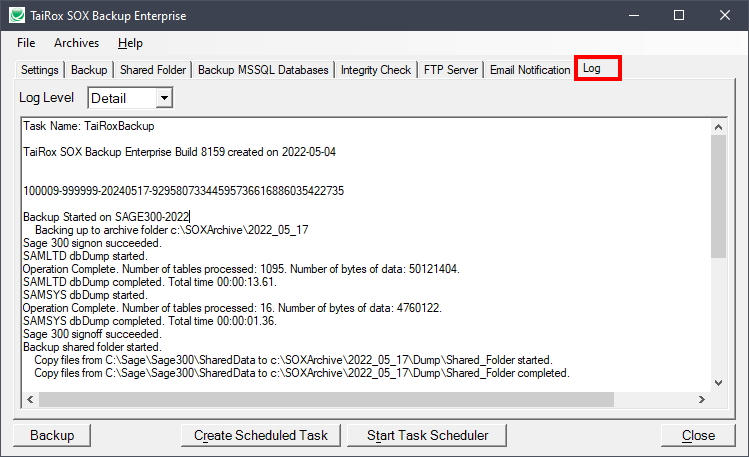 Platform Requirements
| | |
| --- | --- |
| • | Sage 300 2012 to 2023: A single executable program works with these platforms. |
| • | .NET Framework 4.6.2 or higher is required. |
| • | Visual C++ 2013 Redistributable (x86) - 12.0.30501 or higher is required. |
| • | Detailed Platform Requirements |